Universal Air Travel Plan
The industry standard
Make tracking and managing business expenses simple

Flexible plans
This content can be expanded
Choose the plan that's right for your business. As it's designed to complement your existing program, you can continue to use your current corporate card for other expenses.
Apply now
Joining is easy, and approval only takes 5 business days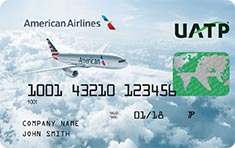 Download the application and Subscriber's Contract forms
Include 2 years audited financial statements or annual reports with the completed application
Email completed forms and accompanying documents to uatp@aa.com or mail them to us at:
American Airlines UATP Program
4000 E. Sky Harbor Blvd.
Attn: PHX-RWE-ACR
Phoenix, AZ 85034
Any questions?
Call or email us
1-800-528-3819
uatp@aa.com
6:30 a.m. - 4:00 p.m. MST Monday - Friday